With 2022 officially underway, it is time for investors to prepare their portfolios for the coming year. To help them get started, Sightline Wealth Management is hosting a 2022 market outlook webinar on Wednesday, January 26 at 2:00 p.m. EST.
For this event, Sightline Wealth Management will be joined by Ninepoint Partners' John Wilson, Co-CEO, Managing Partner and Senior Portfolio Manager, and Mark Wisniewski, Partner and Senior Portfolio Manager, as they discuss opportunities and potential challenges investors may face in the new year.
During this webinar, we will discuss a variety of topics including:
What investors may expect in 2022
The present state of the market and economy
How current and future events may impact portfolios
Through this webinar, investors can start preparing their portfolios and financial futures for 2022 and beyond. For more information, please contact us at invest@sightlinewealthmgt.com.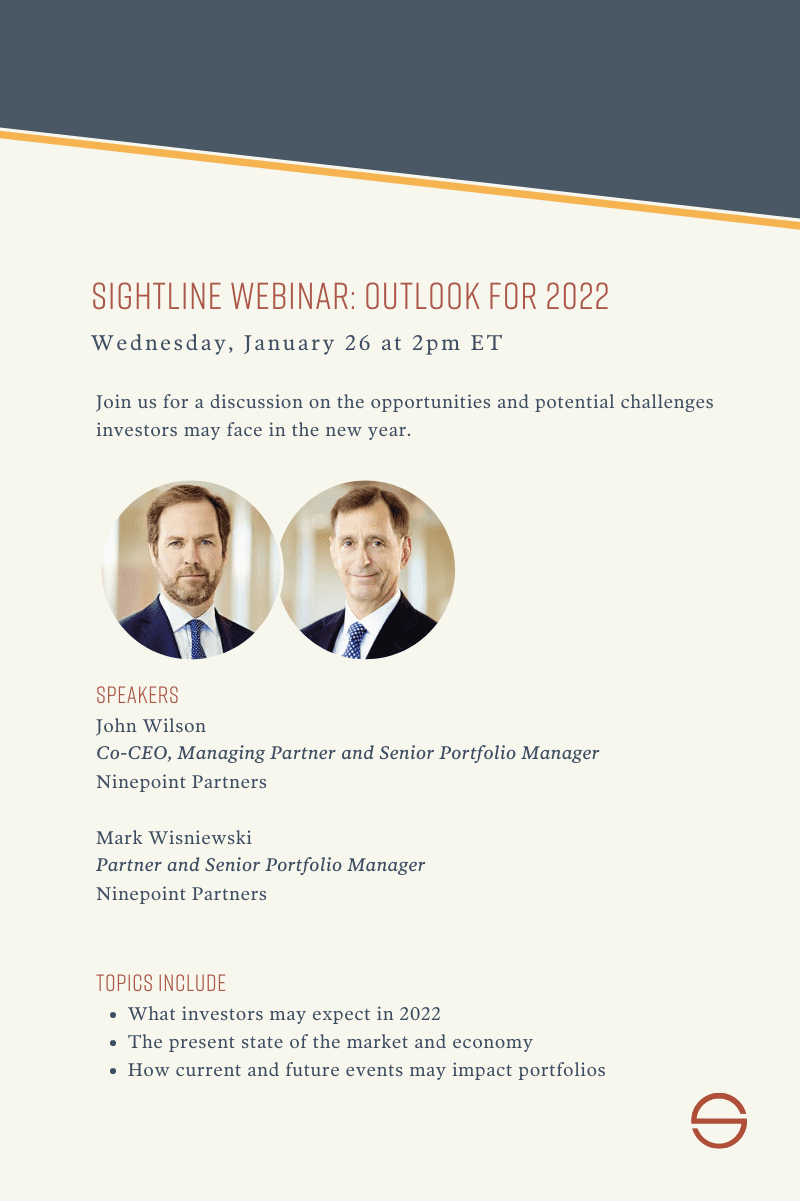 Important Information:
Sightline Wealth Management LP ("Sightline") is an investment dealer and is a member of the Investment Industry Regulatory Organization of Canada (IIROC) and the Canadian Investor Protection Fund (CIPF). Sightline provides management and investment advisory services to high-net-worth individuals and institutional investors primarily through fee-based accounts.  
Sightline Wealth Management LP is a wholly owned subsidiary of Ninepoint Financial Group Inc. ("NFG Inc."). NFG Inc. is also the parent company of Ninepoint Partners LP, it is an investment fund manager and advisor and exempt market dealer. By virtue of the same parent company, Sightline is affiliated with Ninepoint Partners LP. Information and/or materials contained herein is for information purposes only and does not constitute an offer to sell or solicitation to purchase securities of any issuer or any portfolio managed by Sightline Wealth Management or Ninepoint Partners, including Ninepoint managed funds.
 Sightline Wealth Management ("Sightline") makes every effort to ensure that the information has been derived from sources believed to be reliable and accurate. However, Sightline assumes no responsibility for any losses or damages, whether direct or indirect, which arise out of the use of this information. Sightline is not under any obligation to update or keep current the information contained herein. The information should not be regarded by recipients as a substitute for the exercise of their own judgment. Past performance is not indicative of future performance. Please speak to your Advisor regarding the suitability of information provided in this article for you. The opinions, estimates, projections and/or recommendations contained in this document are those of the author as of the date hereof.