After struggling the previous week, the equity markets rebounded with solid gains led by growth stocks over value stocks. Defensive sectors like consumer staples, health care and utilities took a backseat as investor sentiment turned more optimistic on evidence of cooling inflation, suggesting the pace of monetary tightening may slow at the Fed meeting this week. European major equity indices followed suit.
One of the key drivers of market performance and investor sentiment is earnings. According to FactSet, for the fourth quarter, with 29% of the S&P 500 companies reporting actual results, 69% reported positive EPS (earnings per share) surprises, while 60% reported positive revenue surprises. FactSet is reporting for Q4 2022 blended earnings for the S&P 500 companies at a negative 5%. (Blended earnings combines actual results for companies that have reported to date and estimated results for companies that have yet to report). Not unexpected, for companies generating more than 50% of sales domestically (U.S.), the blended earnings decline is -3.5%. For companies generating more than 50% of sales from foreign markets, the blended earnings decline is -7.3%. Technology and communication services of the S&P 500 with international exposure are the sectors with the largest earnings declines to date, generating 58% and 42% of their respective earnings offshore. If Intel, Alphabet, Meta Platforms and Apple were stripped out of the companies generating more than 50% of revenues outside the U.S., the blended earnings growth would be 1.1% rather than -7.3%.1
Last Monday, as another sign of continuing economic weakness, the Conference Board Leading Economic Index for the U.S. decreased by 1% in December to 110.5 and is now down 4.2% over the last six months ending December 2022. The Coincident Economic Index (CEI), comprised of payroll employment, personal income less transfer payments, manufacturing trade and sales, and industrial production, rose by 0.1% in December. Except for industrial production, all other components were positive in the month. The CEI increased by 1.4% over the last six months of 2022 compared to the previous six months' growth of 0.4%. The December Conference Board's Lagging Economic Index (LAG) increased by 0.3% to 117.6. For the last six months of 2022, the LAG index was up 2.3% versus 4.5% for the first six months of 2022.2
On Tuesday, the S&P Global U.S. Manufacturing PMI increased in January to 46.8 from 46.2 in December. (A reading below 50 indicates a contraction, and above 50 indicates an expansion.) While still in contraction territory, the S&P US Services PMI jumped 1.9 percentage points in January to 46.6.3
The major surprise in the economic data for the week was the new orders for durable goods jumping 5.6% in December after a decline in November of 1.7%. Shipments of manufactured durable goods were also up 0.5%, and unfilled orders for manufactured goods increased by 0.7%. New orders for nondefense capital goods in December jumped 19.2%, shipments increased 0.2%, unfilled orders rose 2.4%, and inventories were up 1.4% in the same category.4 On Thursday, the Census Bureau also reported new single-family home sales increased 2.4% in December. The estimated 2022 sales were 644,000, a 16.4% drop from the 2021 number of 771,000. Median home prices came in at $442,100, while the average price was $528,400.5
Another surprise on Thursday was the initial unemployment claims for the week ending January 21 seasonally adjusted to 186,000, a decrease of 6,000 from the previous week's revised 190,000 claims. Continuing claims for the week ending January 7 increased by 41,922 from the previous reading to 1,935,731.6
On Friday, the latest personal consumption expenditures (PCE) price index continued the slowing trend, rising 0.1%, although the core PCE excluding food and energy rose 0.3%, a slight increase of 0.1% over November. On an annual basis, the headline PCE is 5%, with the core reading at 4.4%. Disposable income rose 0.3%, while personal consumption expenditures fell 0.2% in the month.7 Also, on Friday, the University of Michigan Consumer Sentiment released its latest reading for January. The latest surveys for consumer sentiment jumped to 64.9, up from 59.7, current expectations increased to 69.4 from 59.4, and consumer expectations rose to 52.7 from 59.9 in December.8 What is interesting is the consumer sentiment survey data divergence based on political affiliation. (You can learn more about the survey here).9
Based on the latest economic data, we believe most market participants expect the Fed at the next meeting on February 1 to slow the pace of rate increases to 25 basis points. However, there is a slight possibility that the latest durable goods and the initial claims data might sway Fed officials to raise rates 50 basis points. We believe that would result in market chaos, at least in the short-term, which we believe the Fed will likely avoid at this point in the cycle.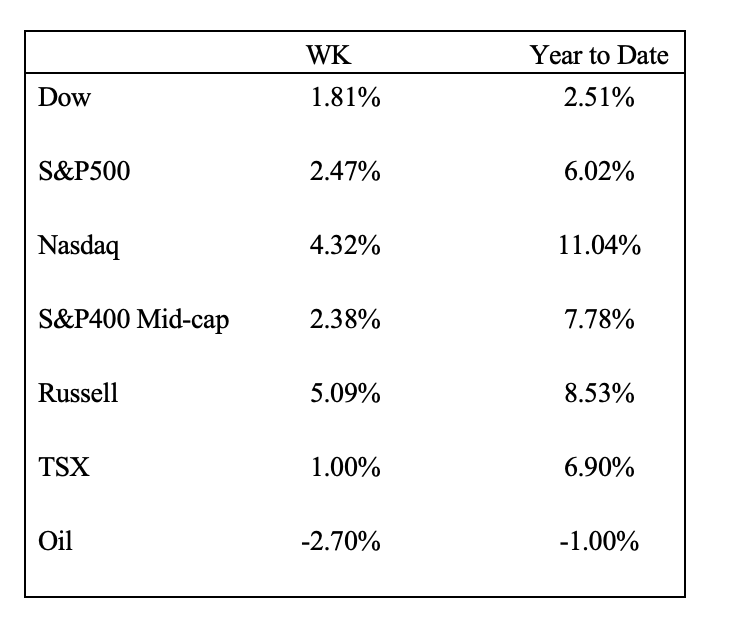 Sources:
 1https://advantage.factset.com/hubfs/Website/Resources%20Section/Research%20Desk/Earning%20Insight/EarningsInsight_012723A.pdf?hsCtaTracking=31d0f488-5c02-4193-b93b-f1708067f4fa%7Cb994622e-6b82-4c98-ad34-76c848088314
2 https://www.conference-board.org/topics/us-leading-indicators
3 https://tradingeconomics.com/united-states/manufacturing-pmi
4 https://www.census.gov/manufacturing/m3/adv/pdf/durgd.pdf
5 https://www.census.gov/construction/nrs/pdf/newressales.pdf
6 https://www.dol.gov/ui/data.pdf
7 https://www.bea.gov/news/2023/personal-income-and-outlays-december-2022
8 https://getfea.com/end-use/university-of-michigan-reports-final-results-of-its-consumer-sentiment-index-for-january
9 https://data.sca.isr.umich.edu/fetchdoc.php?docid=72057
Important Information:
Warren Gerow is an independent investment wealth consultant to Sightline Wealth Management.
Sightline Wealth Management LP ("Sightline") is an investment dealer and is a member of the Investment Industry Regulatory Organization of Canada (IIROC) and the Canadian Investor Protection Fund (CIPF). Sightline provides management and investment advisory services to high-net-worth individuals and institutional investors.
Sightline Wealth Management LP is a wholly owned subsidiary of Ninepoint Financial Group Inc. ("NFG Inc."). NFG Inc. is also the parent company of Ninepoint Partners LP, it is an investment fund manager and advisor and exempt market dealer. By virtue of the same parent company, Sightline is affiliated with Ninepoint Partners LP. Information and/or materials contained herein is for information purposes only and does not constitute an offer to sell or solicitation to purchase securities of any issuer or any portfolio managed by Sightline Wealth Management or Ninepoint Partners, including Ninepoint managed funds.
The opinions and information contained in this article are those of Sightline Wealth Management ("Sightline") as of the date of this article and are subject to change without notice. Sightline endeavors to ensure that the content has been compiled from sources that we believe to be reliable. The information is not meant to be used as the primary basis of investment decisions and should not be constructed as advice. Each investor should obtain independent advice before making any investment decisions.