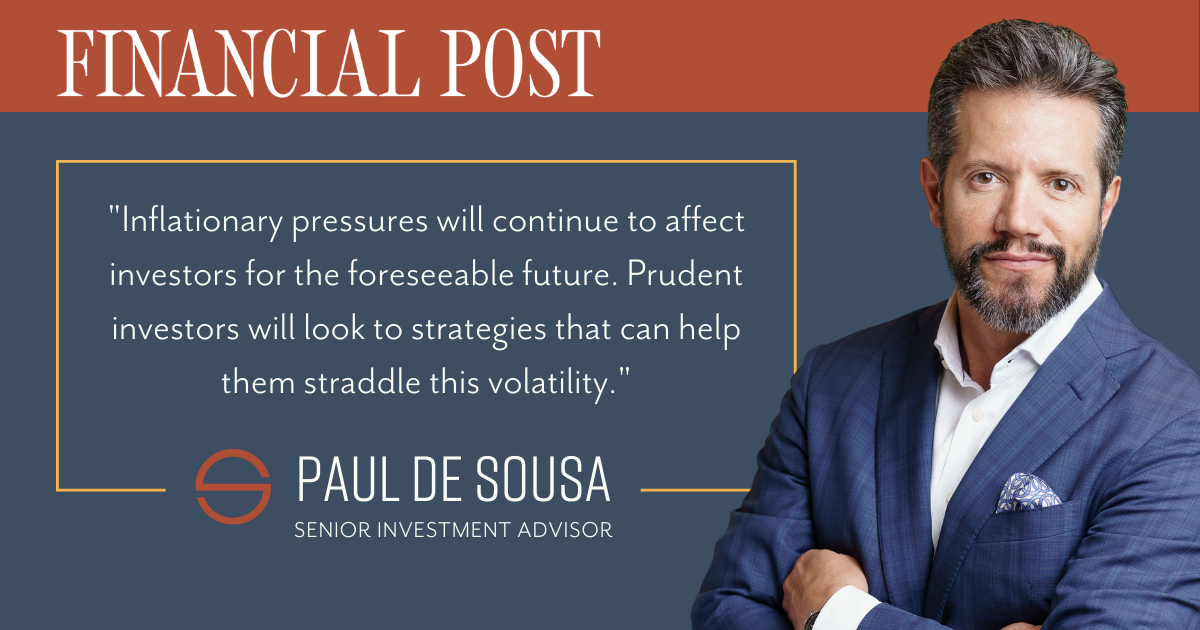 As many of us have witnessed at the grocery store or gas station, inflation is rising at a monumental pace not seen in decades. To combat these rising prices, central banks around the globe have been utilizing one tool to correct the course of monetary policy: interest rate hikes. Unfortunately, even after repeated rate increases in 2022, inflation is staying strong in the new year. To learn more about how investors can navigate an environment of both high interest rates and high inflation, the Financial Post spoke with Sightline Wealth Management for insight.
According to Sightline Senior Investment Advisor Paul de Sousa, the reality of today's environment is especially hard for investors who acclimated well to the central bank policies that stimulated economic growth in recent years, such as cheap money and quantitative easing. "Knowing this accommodative policy couldn't last forever, we have to accept that we're now living with the effects of an easy money policy," says de Sousa. "Persistent inflation is a confiscation of wealth, eating away at wages and savings while undermining the real rates of return on investments, especially fixed-income products."
However, if new economic data is released that causes the central banks to taper, de Sousa still believes market volatility will continue as earlier rate hikes have only now begun to filter their way through the economy. "Even if some of the inflation numbers appear to be decreasing, it's too early to know the trajectory for future inflation," he explains. "So, it may be prudent to consider hedging against inflation by directing part of your portfolio to stocks that are less sensitive to it."
Click here to read the entire article.
Important Information:  
Sightline Wealth Management LP ("Sightline") is an investment dealer and is a member of the Investment Industry Regulatory Organization of Canada (IIROC) and the Canadian Investor Protection Fund (CIPF). Sightline provides management and investment advisory services to high-net-worth individuals and institutional investors.
Sightline Wealth Management LP is a wholly owned subsidiary of Ninepoint Financial Group Inc. ("NFG Inc."). NFG Inc. is also the parent company of Ninepoint Partners LP, it is an investment fund manager and advisor and exempt market dealer. By virtue of the same parent company, Sightline is affiliated with Ninepoint Partners LP. Information and/or materials contained herein is for information purposes only and does not constitute an offer to sell or solicitation to purchase securities of any issuer or any portfolio managed by Sightline Wealth Management or Ninepoint Partners, including Ninepoint managed funds. 
 Sightline Wealth Management ("Sightline") makes every effort to ensure that the information has been derived from sources believed to be reliable and accurate. However, Sightline assumes no responsibility for any losses or damages, whether direct or indirect, which arise out of the use of this information. Sightline is not under any obligation to update or keep current the information contained herein. The information should not be regarded by recipients as a substitute for the exercise of their own judgment. Past performance is not indicative of future performance. Please speak to your Advisor regarding the suitability of information provided in this article for you. The opinions, estimates, projections and/or recommendations contained in this document are those of the author as of the date hereof.