The major equity indices drifted lower during the holiday-shortened trading week, except for the Dow Jones, which had a modest gain. Brent crude prices rose after Saudi Arabia, Iraq and several Gulf States said on Sunday last week that they were cutting output by more than one million barrels of oil daily. As a result, oil jumped for a second consecutive week with a gain of over 6%, supporting the TSX. European equity markets also moved slightly higher as fears relaxed over the banking crisis.
On Monday, the Institute for Supply and Management manufacturing survey for March dropped to 46.3% from 47.7% in February – the lowest level since May 2020. The index for new orders declined 2.7 points to 44.3%, the production index edged up 0.5 points to 47.8% and the employment gauge fell 2.2 points to 49.2%. As an indication that price increases have moderated, the price index declined 2.1% points to 49.2%. A reading below 50% signals that the manufacturing sector is contracting, and above 50% indicates that manufacturing is expanding.1
On Tuesday, the Labor Department reported that February job openings fell by 632,000 to 9.9 million – a 21-month low. The quits reading, which had dropped below four million in January, evened out at four million, while layoffs and discharges decreased. Areas where job openings fell the most were hotels, restaurants, retailers, transportation companies and professional businesses.2 The latest data could mean the historically tight labor market is showing signs of softening.
On Wednesday, the ADP reported U.S. private payrolls climbed by 145,000 in March – well below the expectation of 210,000. By sector, the service sector providers added 75,000 jobs in March, and leisure and hospitality added 98,000 workers. Meanwhile, goods producers added 70,000 jobs, and manufacturing shed 30,000 jobs.3 The ISM Services Report on Business, while recording an expanding reading at 51.2% in March, was 3.9 percentage points lower than the February reading of 55.1%. "The Business Activity Index registered 55.4% – a 0.9 percentage point decrease compared to the reading of 56.3% in February. The New Orders Index expanded in March for the third consecutive month after contracting in December for the first time since May 2020. The March figure of 52.2% is 10.4 percentage points lower than the February reading of 62.6%. The Prices Index was down 6.1 percentage points in March to 59.5%. The Inventories Index rose in March for the second consecutive month after contracting for eight months in a row. The reading of 52.8% is up 2.2 percentage points from February's figure of 50.6%."4
On Thursday, the number of people applying for jobless benefits jumped to 228,000 after the Bureau of Labor Statistics changed how the government compensates for seasonal swings. The adjustments used to recalculate earlier weekly data showed that the number applying for benefits topped 200,000 for the last nine weeks. As a result, the number of people collecting benefits from all programs for the week ending March 25 increased by 6,000 to 1.82 million.5 The government's new calculation is linked here.6
On Friday, the Bureau of Labor Statistics reported that non-farm payroll employment increased by 236,000 in March, and the employment rate lowered to 3.5% from 3.6%. Sectors that added jobs were leisure and hospitality, government, healthcare and professional business services. Also, in the report, the labor participation rate increased to the highest level since February 2020 – 62.6%.7
With the recent rally based on the expansion of earnings multiple without corresponding earnings growth, equity markets seem ready to pause and possibly move lower in the coming months if the economy continues to show weakness. However, as the markets start to look for recovery, we expect cyclical sectors might show improvement.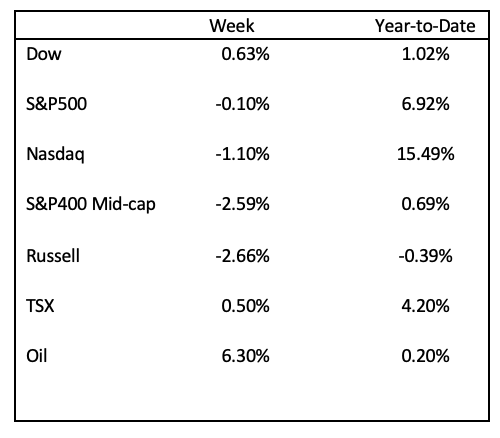 Sources:
1https://www.ismworld.org/supply-management-news-and-reports/news-publications/inside-supply-management-magazine/blog/2023/2023-04/rob-roundup-march-2023-manufacturing-pmi
2https://www.bls.gov/news.release/pdf/jolts.pdf
3https://adpemploymentreport.com
4https://www.ismworld.org/supply-management-news-and-reports/reports/ism-report-on-business/services/march/
5https://www.marketwatch.com/story/jobless-claims-top-200-000-after-changes-to-formula-for-seasonal-adjustments-877bfe37?mod=home-page
6https://www.dol.gov/ui/data.pdf
7https://www.bls.gov/news.release/pdf/empsit.pdf
Important Information:
Warren Gerow is an independent investment wealth consultant to Sightline Wealth Management.
Sightline Wealth Management LP ("Sightline") is an investment dealer and is a member of the Investment Industry Regulatory Organization of Canada (IIROC) and the Canadian Investor Protection Fund (CIPF). Sightline provides management and investment advisory services to high-net-worth individuals and institutional investors.
Sightline Wealth Management LP is a wholly owned subsidiary of Ninepoint Financial Group Inc. ("NFG Inc."). NFG Inc. is also the parent company of Ninepoint Partners LP, it is an investment fund manager and advisor and exempt market dealer. By virtue of the same parent company, Sightline is affiliated with Ninepoint Partners LP. Information and/or materials contained herein is for information purposes only and does not constitute an offer to sell or solicitation to purchase securities of any issuer or any portfolio managed by Sightline Wealth Management or Ninepoint Partners, including Ninepoint managed funds.
The opinions and information contained in this article are those of Sightline Wealth Management ("Sightline") as of the date of this article and are subject to change without notice. Sightline endeavors to ensure that the content has been compiled from sources that we believe to be reliable. The information is not meant to be used as the primary basis of investment decisions and should not be constructed as advice. Each investor should obtain independent advice before making any investment decisions.