Equity markets were slammed last week, with the mid-cap and small-cap markets underperforming large caps and value falling more than growth. The Dow Jones moved into negative territory year-to-date, while the other indices remained positive year-to-date. The TSX was the best-performing market of the North American major indices. Like most markets, oil fell early in the week, responding to Federal Reserve Chair Jerome Powell's testimony before Congress warning of higher and faster rate hikes. On Friday, oil bounced 1% on employment data.1
Value stocks suffered from the news that Silicon Valley Bank (SVB) was under pressure to raise capital to shore up its balance sheet. On Wednesday, SVB announced the sale of securities at a loss and the need to raise further capital. The announcement resulted in a depositor run on the 40-year-old bank and, within 48 hours, withdrawing $42 billion in deposits. The company's stock plummeted on Thursday, dragging down other banks on fears of contagion. By Friday morning, it became apparent that the bank was insolvent, and the FDIC stepped in to take over. When rates were much lower, banks added long-dated Treasuries. As rates increased, bank portfolio values fell, leaving bank portfolios with unrealized losses. In the case of SVB, with a focus on the technology sector, many of its clients, unable to raise capital for operations, drew down on deposits at the bank, forcing the bank to sell securities at a loss to meet depositors' demand. Initially, Wall Street panicked, causing shares to fall. Later, analysts said they did not think the bank's collapse was likely to set off a domino effect like that of the financial crisis of 2008.2
Tuesday's testimony of Chairman Powell before congress set the tone for the market. In his opening statement, he described the current economic environment: "The data from January on employment, consumer spending, manufacturing production, and inflation have partly reversed the softening trends that we had seen in the data just a month ago. Some of this reversal likely reflects the unseasonably warm weather in January in much of the country. Still, the breadth of the reversal along with revisions to the previous quarter suggests that inflationary pressures are running higher than expected at the time of our previous Federal Open Market Committee (FOMC) meeting." With the core inflation rate running well above the long-run objective of 2%, coupled with the current environment, Chairman Powell finished his statement with, "As I mentioned, the latest economic data have come in stronger than expected, which suggests that the ultimate level of interest rates is likely to be higher than previously anticipated. If the totality of the data were to indicate that faster tightening is warranted, we would be prepared to increase the pace of rate hikes." 3 These comments caused market sentiment to recalibrate.
In contrast, the Bank of Canada on Thursday held rates. The Bank stated," Overall, the latest data remains in line with the Bank's expectation that CPI inflation will come down to around 3% in the middle of this year. Year-over-year measures of core inflation ticked down to about 5%, and 3-month measures are around 3½%. Both will need to come down further, as will short-term inflation expectations, to return inflation to the 2% target." The Governing Council expects to hold rates at current levels conditional on economic data.4 We believe that if the US Fed continues to raise rates and the Bank of Canada is to stand pat, the fortunate consequence is that the Canadian dollar will likely come under pressure, causing the price of imports to rise.
On Tuesday, the US Federal Reserve reported that consumer credit grew at 3.7%, with revolving credit (credit cards) rising 11.1% in January compared to December's 6.9% and non-revolving credit (student loans and auto loans) increasing 1.2% compared to 1.3% in the prior month.5 The big news of the week centered around the jobs reports. The ADP employment early in the week reported private sector payrolls increased by 242,000 compared to Wall Street estimates of 205,000.6 On Wednesday, the Labor Department said the January Job Openings (JOLTS) decreased to 10.8 million, down 410,000 from December. The most significant decreases came in construction (-240,000), accommodation and food services (-204,000), finance, and insurance (-100,000).7 On Thursday, the initial unemployment claims jumped to 211,000, a 10-week high, and 21,000 higher than the previous level. Claims for all benefits for the week ending February 18 was 1,920,603, a decrease of 38,441 from the last week.8 On Friday, the Bureau of Labor Statistics released the nonfarm payroll employment number showing an increase of 311,000 in February compared to estimates of 225,000. The job gains included leisure, hospitality, retail trade, government, and health care. Surprisingly, the unemployment rate increased to 3.6%.9
We believe investors continue to be sensitive to rates and earnings, causing wild swings. So, while we are closer to the end of rate increases, we expect more volatility in the coming months.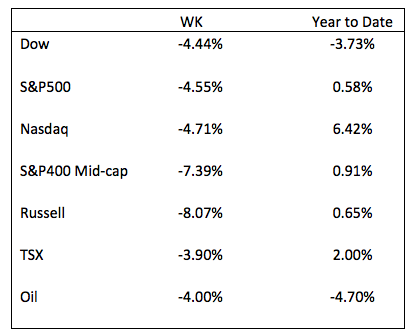 Sources:
1 https://www.cnbc.com/2023/03/10/oil-little-changed-worries-over-rate-hikes-persist.html
2 https://www.cnbc.com/2023/03/10/silicon-valley-bank-collapse-how-it-happened.html
3 https://www.federalreserve.gov/newsevents/testimony/powell20230307a.htm
4 https://www.bankofcanada.ca/2023/03/fad-press-release-2023-03-08/
5 https://www.federalreserve.gov/releases/g19/current/
6 https://www.marketwatch.com/story/u-s-private-sector-job-growth-picks-up-in-february-adp-says-5932a2d6?mod=economy-politics
7 https://www.bls.gov/news.release/pdf/jolts.pdf
8 https://www.dol.gov/ui/data.pdf
9 https://www.bls.gov/news.release/pdf/empsit.pdf
Important Information:
Warren Gerow is an independent investment wealth consultant to Sightline Wealth Management.
Sightline Wealth Management LP ("Sightline") is an investment dealer and is a member of the Investment Industry Regulatory Organization of Canada (IIROC) and the Canadian Investor Protection Fund (CIPF). Sightline provides management and investment advisory services to high-net-worth individuals and institutional investors.
Sightline Wealth Management LP is a wholly owned subsidiary of Ninepoint Financial Group Inc. ("NFG Inc."). NFG Inc. is also the parent company of Ninepoint Partners LP, it is an investment fund manager and advisor and exempt market dealer. By virtue of the same parent company, Sightline is affiliated with Ninepoint Partners LP. Information and/or materials contained herein is for information purposes only and does not constitute an offer to sell or solicitation to purchase securities of any issuer or any portfolio managed by Sightline Wealth Management or Ninepoint Partners, including Ninepoint managed funds.
The opinions and information contained in this article are those of Sightline Wealth Management ("Sightline") as of the date of this article and are subject to change without notice. Sightline endeavors to ensure that the content has been compiled from sources that we believe to be reliable. The information is not meant to be used as the primary basis of investment decisions and should not be constructed as advice. Each investor should obtain independent advice before making any investment decisions.