Data indicating slowing inflation and growth encouraged investors to return to equities last week. Except for the TSX, all North American equity markets posted healthy gains in the week. The energy sector pulled back 20% from recent highs, slowing the upward momentum in the TSX relative to the other indices. The weekly gains were widespread, with almost all sectors enjoying healthy gains. European equities rebounded as signs of slowing growth prompted investors to speculate that the ECB might not be as aggressive with the pace of rate increases in the year's second half.
Last Tuesday, the National Association of Realtors reported home sales for May declined 3.4% to 5.41 million annualized from April. After peaking in January at 6.49 million annualized, sales have fallen to the pre-pandemic level; however, the median home price from a year earlier has climbed to $407,600. Housing, a vital component of the economy, is slowing with higher mortgage rates and will continue to come under pressure if rates continue to rise as expected.1
The week's big news was Fed Chair Powell's two-day testimony before Congress. The Fed Chairman repeated his claim that the Fed is focused on bringing down inflation and has the tools to make it happen. He stated, "At the Fed, we understand the hardship high inflation is causing. We are strongly committed to bringing inflation back down, and we are moving expeditiously to do so. We have both the tools we need and the resolve it will take to restore price stability on behalf of American families and businesses." In the Fed's view, economic conditions remain robust enough with a strong labor market and high demand for goods and services to weather higher interest rates without entering a recession. He mentioned in his testimony that the Fed does not have the power to control energy prices because oil is set on the world market.2
On Thursday, the initial jobless claims for the week ending June 18 totaled 229,000, a decrease from the previous week's revised level of 231,000. The total number for all benefits increased by 14,479 to 1,296,581 on June 4.3 In a sign of an economic slowdown, the S&P Global Flash US Manufacturing and Services PMI showed a sharp decline in June. The Composite fell to a 5-month low at 51.2 from May's 53.6. The manufacturing PMI came in at 52.4 compared to May's 57.0. The decline for June is one of the weakest percentage drops in the 15-year history of the index. Higher input costs and falling confidence were attributed to the latest fall in new orders. The services PMI also fell to 51.6 in June versus 53.4 in May, signaling a slowing of the expansion rate at service providers.4 On Friday, the University of Michigan released its final survey results on the consumer sentiment index. The closely watched index was revised lower for June to 50.0. As inflation ravages, the consumer sentiment in all categories posted declines. As part of the survey, respondents were asked about future business conditions. Seventy-nine percent expect bad times ahead for business conditions; 47% blame inflation for eroding standards of living.5 Several of the reports of the survey indicate deteriorating economic conditions.
The current conversations are dominated by discussions of soft landings, recession and inflation, making investors more skittish with each announcement. Volatility will increase until the market participants have confidence in the outcome.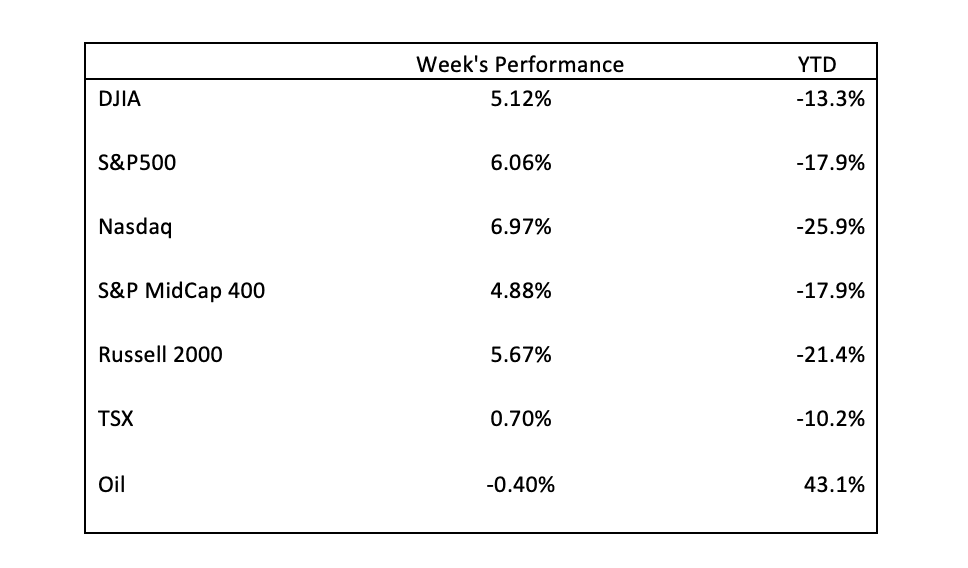 Sources:
1 https://www.nar.realtor/june-is-national-homeownership-month
2 https://www.cnbc.com/2022/06/22/powell-tells-congress-the-fed-is-strongly-committed-to-bringing-inflation-down.html
3 https://www.dol.gov/ui/data.pdf
4 https://www.pmi.spglobal.com/Public/Release/PressReleases
5 https://finance.yahoo.com/news/consumer-sentiment-university-of-michigan-june-final-142848659.html
Important Information:
Warren Gerow is an independent investment wealth consultant to Sightline Wealth Management.
Sightline Wealth Management LP ("Sightline") is an investment dealer and is a member of the Investment Industry Regulatory Organization of Canada (IIROC) and the Canadian Investor Protection Fund (CIPF). Sightline provides management and investment advisory services to high-net-worth individuals and institutional investors primarily through fee-based accounts.
Sightline Wealth Management LP is a wholly owned subsidiary of Ninepoint Financial Group Inc. ("NFG Inc."). NFG Inc. is also the parent company of Ninepoint Partners LP, it is an investment fund manager and advisor and exempt market dealer. By virtue of the same parent company, Sightline is affiliated with Ninepoint Partners LP. Information and/or materials contained herein is for information purposes only and does not constitute an offer to sell or solicitation to purchase securities of any issuer or any portfolio managed by Sightline Wealth Management or Ninepoint Partners, including Ninepoint managed funds.
The opinions and information contained in this article are those of Sightline Wealth Management ("Sightline") as of the date of this article and are subject to change without notice. Sightline endeavors to ensure that the content has been compiled from sources that we believe to be reliable. The information is not meant to be used as the primary basis of investment decisions and should not be constructed as advice. Each investor should obtain independent advice before making any investment decisions.